#5. Matthew Perry:
Author's Note: It pains me to put Matthew Perry so low on this list, because he was arguably my favorite Friend (and I maintain that he possesses an enormous amount of talent), but looking at his credits, there just isn't that much to work with...
On Screen
Perry's main credit since Friends was the short-lived Aaron Sorkin vehicle Studio 60 On The Sunset Strip. Studio 60 was supposed to be the next big thing, but it fizzled and died after just a single season. At least Perry received generally positive feedback for his performance.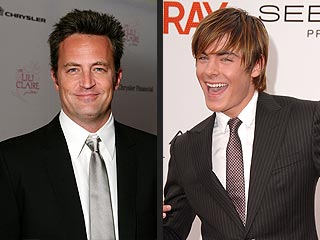 The problem with Perry is that besides Studio 60 he hasn't done very much; a TV movie here (The Ron Clark Story) and a movie you've never heard of there (Numb, Birds of America). While Perry has received positive reviews for all of these films, I just don't feel that any of them can be considered that big post-Friends breakthrough.
Perry will also be playing an older version of Zac Efron in this Spring's 17 Again. Second billing to Zac Efron. Yikes!
Perry's best chance for post-Friends success might be "The End of Steve", a new series for Showtime in which he will be starring and producing.
Off Screen
There's very little off-screen news for Perry and in his case, no news is probably good news since he previously suffered from various drug and alcohol addictions during his Friends tenure (and Chandler's weight see-sawed accordingly whether Perry was on or off of the sauce).
Perry may or may not be dating his former girlfriend Lauren Graham, of Gilmore Girls.
Hotness Retained?
Here is an image of Perry from February of this year. Like LeBlanc, he looks older, but since he doesn't appear to be balding or fat, I'm going to go ahead and vote "Yes" on this one. Honestly, could he BE any more adorable?
Previous Entry: #6 - Matt LeBlanc
Next Entry: #4 - Lisa Kudrow